23.Apr.14

 

11.Apr.14

 

30.Mar.14

 

15.Mar.14

 

12.Mar.14

 

03.Mar.14

 

27.Feb.14

 
06.Apr.14

I don't think this 'save it somewhere and forget about it' approach is being that beneficial to our minds.

27.Mar.14

We need more diverse debate. It's infuriating that in the tech sphere most of the debate gravitates around a bunch of sites and pundits.

18.Mar.14

If your wearable device is best defined by this tag line, you're doing it wrong.

24.Feb.14

Simply put, Facebook's $19 billion acquisition of WhatsApp has left me more disgusted than ever.
02.Apr.14

Since upgrading to Mavericks the overall display management has been erratic and unreliable for me.

19.Mar.14

I believe that today, having 8GB of storage on an iPhone is borderline useless.

11.Mar.14

Yes, there are performance improvements. No, the iPhone 4 was not "unusable" before.

06.Mar.14

Moving away from Google one step at a time, I've started by relying on another engine for my Web searches.
19.Apr.14

Over time I've tried a lot of different tobaccos, blends and brands. I've kept many of the pouches and cans because some of them feature a really nice package design.

21.Jan.14

The time has come for some ranting. I have debated whether to write and post these thoughts or keep them to myself, but I feel that bottling them up is just making things worse.

27.Oct.13

Thanks to the new iBooks app in OS X Mavericks, now you can read Minigrooves on your Mac.

26.Jul.13

The first volume of short stories of my Minigrooves project is finally available on the iBookstore.
25.Mar.14

This is the kind of article about Apple that still manages to get on my nerves.

07.Mar.14

Mathis switches from an iPad to a Microsoft Surface and offers a comprehensive account of his experience. About the iPad as a device for content creation, however, I have a slightly different perspective.

11.Feb.14

Brent Simmons suggests that developers drop support for older OS releases as a way to optimise resources and keep making quality apps. I have another suggestion to add.
19.Jan.14

Federico Travaini e Diego Petrucci sono stati così gentili da invitarmi nuovamente nel loro Casual Podcast. Aggiungo qui qualche osservazione in più agli argomenti trattati.

06.Dec.13

Questa 'blogosfera tecnologica', così dolce, così perversa.

01.Oct.13

Recentemente sono stato ospite della terza puntata di Casual Podcast. Ecco alcune note sparse in aggiunta alla bella chiacchierata con Travaini e Petrucci.
About
Welcome to Riccardo Mori's main website & blog. Technology, the liberal arts, design, typography, user interfaces, translation and much more.
Benvenuti al sito & blog principale di Riccardo Mori. Tecnologia, scienze umanistiche, design, tipografia, interfacce utente, traduzioni e molto altro.
A Quillink Press production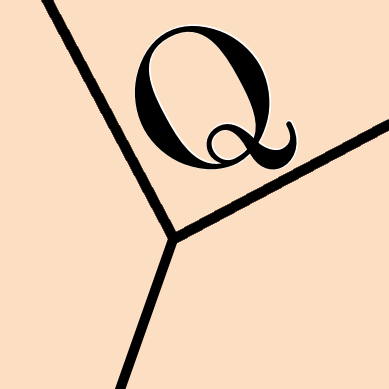 Read Me First
Ten years gone — Reflections and observations after ten years of online writing. New visitors should read this to better understand where I'm coming from.
Doing what you love is not enough — My personal conflict between wanting to be a full-time writer and having to do another job to make ends meet. Meanwhile, I could use some support.
Localisation is important — A professional translator's work is not limited to books and manuals. Here are a few ideas on why you should hire someone like me.
Donate
I strive to provide high-quality content here. If you enjoy it, show your support. It's really appreciated.
Subscribe
Minigrooves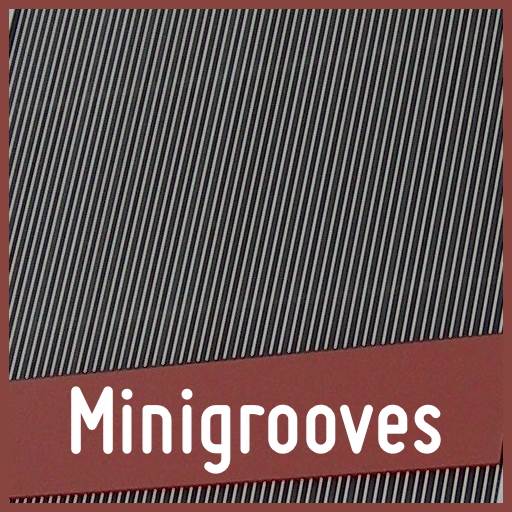 Minigrooves are portable words.
Minigrooves Vol. 1 ebook now available!
Recently published:
In other rooms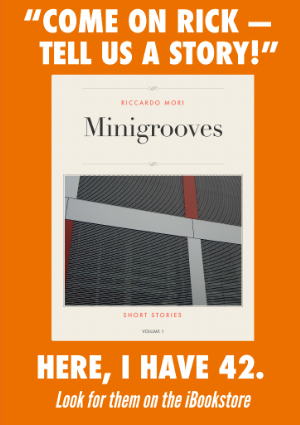 Photo: My ebook of short stories is on the iBookstore
System Folder:
The Quillink annotated: